George Tscherny is a great master of American graphic design.
Born in Budapest, son of Hungarian mother and Russian father, he grew up in Berlin from the age of 2. After the Kristallnacht, at 14 years old he fled with his younger brother to The Netherlands. In 1941, three years later, they gathered together with their parents and left for the U.S.A. The following year he was drafted into the U.S. Army and ordered overseas.
In 1944, after being discharged, he began studying at the School of Fine and Industrial Arts of Newark. In order to take a high school diploma—that he needed to attend the Pratt Institute—he also started to take a course at night and another one during lunch time. The following year he enrolled at Pratt Institute in New York studying under Herschel Levit, an acclaimed teacher who recommended him to the famous furniture stylist Donald Deskey.
He left the school in 1950, six weeks before graduating, and started to work at Donald Deskey & Associates, where he remained two and a half years. In 1953 he started to work at George Nelson's design studio becoming the assistant of Irvin Harper, who was in charge of Herman Miller's advertising. From the age of 30 he became a freelance designer focusing on corporate design for major companies such the Ford Foundation, General Dynamics, Johnson & Johnson, Pan Am, and the U.S. Postal Service.
In 1956 he started to teach at the SVA (School of Visual Arts) in New York, directed by Silas Rhodes who was also responsible for the art direction of the School's communication. Two decades later he designed a brand new identity for the same institution. In addition to the SVA, he also taught at Pratt Institute and lectured as a Mellon Visiting Professor at The Cooper Union, also in New York.
Member of AGI (Alliance Graphique Internationale) since 1965. Member of AIGA (American Institute of Graphic Arts), he served on its board as president from 1966 to 1968. His work is part of the permanent collection of the MoMA (Museum of Modern Art) and The Cooper Hewitt Museum in New York, and the Kunstgewerbemuseum Zürich (Museum of Arts & Crafts).
He was awarded the AIGA Gold Medal in 1988, celebrated in the 1992 Master Series at SVA (School of Visual Arts), and inducted into the ADC (Art Directors Club) Hall of Fame in 1997.
Enjoy your reading,

TO THE TOP ↑
What did you want to do when you were growing up?
Being a commercial artist. A job description with which I am still comfortable, despite its current lack of popularity.
What was your educational path?
Upon serving in the U.S. Army during the Second World War, I was able to attend art school under G.I. Bill of Rights.
[Note: It was a law that provided a range of benefits for returning World War II veterans.]
What was your favorite subject at school?
Drawing and music.
When and how did your career start?
After studying art at Pratt Institute, New York City, I began my professional career with the prominent industrial designer Donald Deskey.
How has your design evolved since that time?
"Designer as author" is my preferred modus operandi, which means I take responsibility for the concept, text, execution (art and photography), and production.
What is the project you remember with more pleasure and interest?
The book "Where would the button be, without the button hole" (RIT Press, 2009), a project in which I functioned exactly as described in the previous answer.
One or more designers you admire.
The German designer Anton Stankowski for his ability to bridge fine and applied arts.
A piece of architecture.
The Chapel by Le Corbusier at Ronchamp, France.
A piece of design.
The paper clip.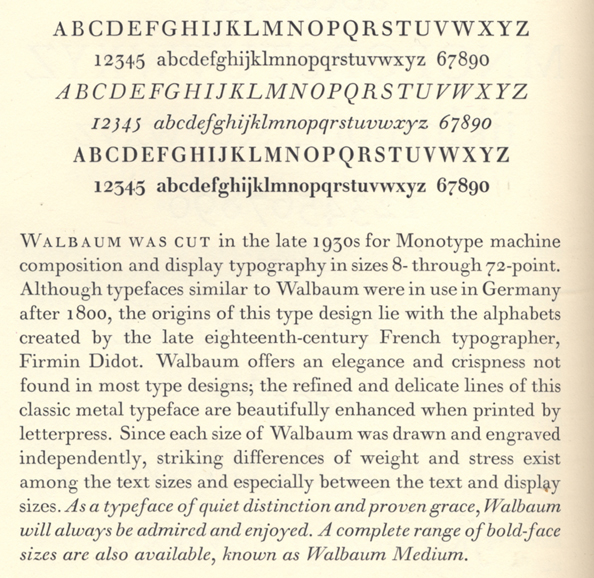 A specimen of Monotype Walbaum. Source: Print Magazine.
A typeface.
Walbaum.
Without considering technology, what are the differences between the design from the past and the current one?
One can't answer this question without considering technology.
What would you recommend to a young designer?
To seek employment in a good design office. Salary considerations should be secondary.
How would you define a good design?
A balance between content and execution, not necessarily 50/50. The proportion depends on the desired emphasis.
How would you describe your design?
Maximum meaning with minimum means.
Which was your favorite game when you were a child?
Chess.
Thank you very much.
Good luck.

© 2013-16 George Tscherny, Nicola-Matteo Munari. All rights reserved.
TO THE TOP ↑

Archivio Grafica Italiana is the first digital resource to the Italian graphic design heritage. Founded by Nicola Munari in 2015.

Design consultancy based in Piacenza, Italy. Founded by Nicola Munari in 2015, it operates in the whole field of design.
TO THE TOP ↑
© 2013-16 Nicola-Matteo Munari. All rights reserved.