Ivan Chermayeff is one of the best American graphic designers, the son of the Russian born, British architect Serge Chermayeff.
Graduated from the Phillips Academy of Andover, Massachusetts in 1950. He studied at Harvard until 1952, and the Institute of Design (New Bauhaus) until 1954. Graduated from the Yale School of Arts and Architecture in 1955 with a Bachelor of Fine Arts. The same year he did a short apprenticeship with Alvin Lustig—a pioneer of American graphic design—and then moved on to CBS as Assistant Art Director in record cover design.
In 1956 he co-founded Brownjohn, Chermayeff & Geismar Associate, with Robert Brownjohn and his former schoolmate Tom Geismar. In 1959 Brownjohn left and the studio changed to Chermayeff & Geismar Inc. It soon became one of the best-known design firms worldwide. The firm produced over six-hundred marks, and they were among the very first to develop an abstract trademark (Chase Bank, 1960), still in use today. In 1964 they designed the outstanding corporate identity of Mobil Oil, that is one of the most recognizable identities ever.
From its foundation, the studio served major companies including Armani, Barneys, Hearst, MoMA (Museum of Modern Art), National Geographic, NBC (National Broadcasting Company), PBS (Public Broadcasting Service), Rockefeller, and others. Recently, Serge Haviv joined as a new partner and the firm changed to Chermayeff & Geismar & Haviv.
Besides his design profession, Chermayeff is a talented illustrator artist and collagist. Many graphic pieces he made show a perfect balance of rational logics with imagination, featuring both abstract geometric shapes and figurative images.
Board overseers at Parsons School of Design and trustee at New School University from 1988 to 2002. Visiting professor at Cooper Union, University of California, and Kansas City Art Institute.
President of AIGA (American Institute of Graphic Arts) from 1963 to 1966. Trustee of MoMA (Museum of Modern Art) from 1965 to 1986. Member of the board of directors of IDCA (International Design Conference in Aspen) from 1968 to 1999. Board Director at Municipal Art Society of New York in 1972-76. Member of AGI (Alliance Graphique Internationale) since 1978. Board Director at Smithsonian Institution from 1988 to 1996. He was elected to the Hall of Fame of ADC New York (Art Directors Club) in 1982. Trustee of the Archives of America Art in 1987-90. Royal Designer for Industry since 1992.
He was awarded numerous prizes including the Industrial Art Medal from AIA (American Institute of Architects) in 1967, the Philadelphia College of Art Gold Medal in 1971, AIGA Gold Medal (American Institute of Graphic Arts) in 1979, the President's Fellow Award from the Rhode Island School of Design in 1981, the First International Design Award from Japan Design Foundation in 1983, the Yale Arts Medal in 1985, the Distinguished Service Award from New School University in 1999, the Society of Illustrators Gold Medal in 2002, the Tokyo Type Directors Club Award in 2004, and the National Design Award for Lifetime Achievement in 2014.
He also received a honorary doctorate in law from the Portland School of Art in 1981, and two honorary doctorates in fine arts from the Philadelphia University of Arts and the Corcoran Museum of Art, Washington in 1991.
Chermayeff and Geismar published many articles and books, including the experimental "Watching Words Move" (Typographica, 1962), "TM" (Lars Müller Publishers, 2000), "Designing" (Graphis, 2003), and "Identify" (Print Publishing, 2011).
Enjoy your reading,

TO THE TOP ↑
What did you want to do when you were growing up?
Surviving, and getting older as soon as possible.
What was your educational path?
I went to twenty-four schools. My parents moved a great deal: England to Canada to Boston to San Francisco to New Orleans to Pennsylvania to New York and in between. I went at the end of the line to Harvard, the Institute of Design in Chicago, and finally graduated from Yale University, to then move to the city and start work.
What was your favorite subject at school?
Geography: Unknown places and imagining what they might be like.
When and how did your career start?
I wanted to be a graphic designer starting as a teenager, because I always felt that graphic design, if good, is always published, and architecture is dependent on funds being raised or not, and if not, often goes unbuilt. I didn't like the idea of failure ever.
How has your design evolved since that time?
It took me almost seven years to recover from my education, because it taught me very little of importance about graphic design. In the 1950s nobody knew what it was. It had to be developed personally – and ever since changes take place, technically and otherwise, and one keeps on learning.
What is the project you remember with more pleasure and interest?
I remember and like best what I am working on at any given moment. I don't look backward to do the same thing again, even when there are obvious common problems. I am proud of many things, of course, but moving forward is what design is all about.
What would you like to design today?
Graphic design is a profession which serves other people's problems, not one's own. The best kind of problems are new ones, where the opportunity to learn something exists.
When and how did your professional partnership begin?
In 1957. Tom Geismar and I graduated from Yale. Robert Brownjohn and I started together beforehand, while Tom was in the army.
In which way do you approach a new project? Do you always work together from the concept to the outcome?
We work together, Tom and I, with a young partner now with us for 10 years, Sagi Haviv. We openly communicate, criticize each other openly, and accept changes, and move forward with alternative studies, which many even come from our employees. We work separately and then decide approaches and results together.
One or more designers you admire.
I admire many designers, some living, some dead. Paul Rand was my mentor. Pierre Mendell, Henry Wolf, and Ikko Tanaka were close friends no longer with us. Talented people—all very thoughful and intelligent—for whom I worked, like Alvin Lustig and Will Burtin had many understandings, not that I thought their work itself was something for me to emulate. All my heroes were very sophisticated people.
A piece of architecture.
Ronchamp and much else of Le Corbusier.
A piece of design (graphic or industrial).
Paul Rand's entire body of work. I loved it all.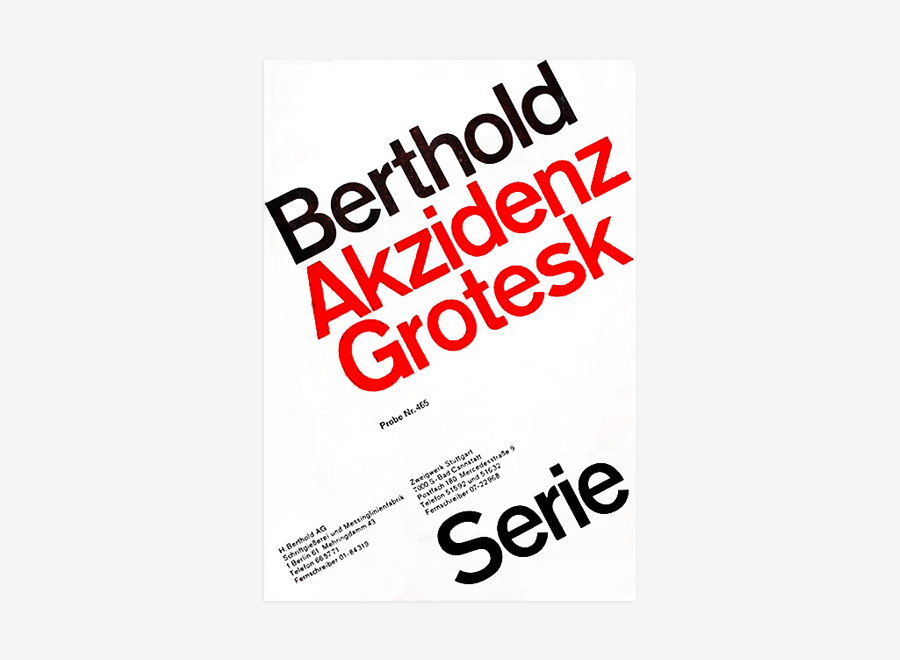 A specimen of Berthold's Akzidenz-Grotesk.
A typeface.
There are thousands of typefaces. I like Garamond and Akzidenz Grotesk as well as a few hundred others.
Without considering technology, what are the differences between design from the past and the current one?
Graphic design today has very little or nothing to do with the visual arts of the past, unless the past is the subject.
Has the way people perceive the design changed?
Today many people think they know what graphic design is because it's in the curriculum of thousands of schools. This does not mean they know what graphic design is, but it's very helpful that they think they do.
What would you recommend to a young designer?
Work hard and learn to self-reject. Never be easily satisfied.
How would you define a good design?
Good design is a design that works. If it doesn't work, it's no good. No matter what it looks like.
How would you describe your design?
My best design work is hopefully free of my past work, or anyone else's. It's in other words, within limits, original. But it must work for our clients, if it is to be successful.
Which was your favorite game when you were a child?
Building block and darts. Both are inherently exciting and lead to either failure or success, depending on the skill applied.
Thank you very much.
Thank you too

© 2013-16 Ivan Chermayeff, Nicola-Matteo Munari. All rights reserved.
TO THE TOP ↑