Paolo Rizzatto
Milan, Italy, 1941
Who's Who
Paolo Rizzatto is a renowned Italian designer and architect.
He graduated in 1965 from the Milan Polytechnic and started working for Arteluce, at that time one of the best lighting company on the Italian design scene, that will be acquired by Flos in 1973.
In 1968 he opened his own studio in Milan working from architecture to interior design, on to furniture and lighting design. Ten years later, in 1978, he co-founded Luceplan, a lighting fixtures manufacturing company for which he designed many lamps including the famous Costanza (1986) and Costanzina (1992), which is part of the MoMA collection.
During his career he also served many other prestigious companies from the furniture and lighting fields including Artemide, Cassina, Danese, Flos, Knoll, Kartell, Molteni, Philips, Poltrona Frau, Thonet, and others while recently, he completed a major urban intervention by entirely planning the area of the new "darsena" (2011-15), the ancient dock of Milan.
Alongside his design activity, he has taught and gave lectures in many institutions including the Architecture Institute of Moscow, Columbia University of New York, IUAV in Venice, and the Milan Polytechnic University.
His work, which is deeply oriented towards technology and functionality, is part of major museums' collections including Milan Triennale, New York's MoMA, Musée des Arts Décoratifs in Paris, and Victoria & Albert Museum of London. He was also awarded numerous recognitions including five Compasso d'Oro (1981, 1989, 1995, 2008, 2011), the Red Dot Award for Design Innovations (1994, 2010), Good Design Award (1999, 2010), and many others.
He is the father of the Italian pop singer Gala, who sold over six million records worldwide.
Enjoy your reading,

TO THE TOP ↑
Q&A
Published Apr 26, 2017
Recorded Apri 20, 2015
What is your definition of design?
Design = Planning = Knowing.
What is the purpose of design?
To know the thing you design.
What are the qualities of good design?
The Italian for design is "progettare," which means to "throw ahead." That means good design should perhaps try to introduce something new.
Should design necessarily produce something useful?
It depends on what we consider useful.
Should the products of design be beautiful?
Beauty is the outcome of a process where all the elements implied found, perhaps miraculously, their own place. It's not a goal in the brief.
What features should be considered to catch the quality of a project?
There are different things to consider including the uses, functions, forms, technics, materials, costs, strategies, memories, utopias, and more. You have to "compose", then to put together, all these things trying to find the proper size and place for each one.
What is the necessary condition to practice design?
To be very, very curious.
Do you think of design as one discipline shared by different fields—architecture, graphics, furniture, and so on—or that each field requires its own specific design discipline?
Design is shared by all these fields. The contexts are different but the method is basically always the same.
What are the differences between art and design? Can design be art?
They are two completely different things.
Does the design require an industrial or handmade production?
That has no importance at all.
To whom design is addressed? Is it for the masses?
You can design for anyone.
Should the products of design be cheap or expensive?
It depends.
Could design be ephemeral?
Sure.
Are still there schools and orientations in design?
Fortunately, yes.
What is the future of design?
It is completely open to everything.
What did you want to do when you were growing up?
The architect.
What was your favourite game when you were a child?
Meccano.
And your favourite subject at school?
Geometry and art history.
Thank you very much.
Thank you.
© 2015-17 Nicola-Matteo Munari, Paolo Rizzatto. All rights reserved.
TO THE TOP ↑
Portfolio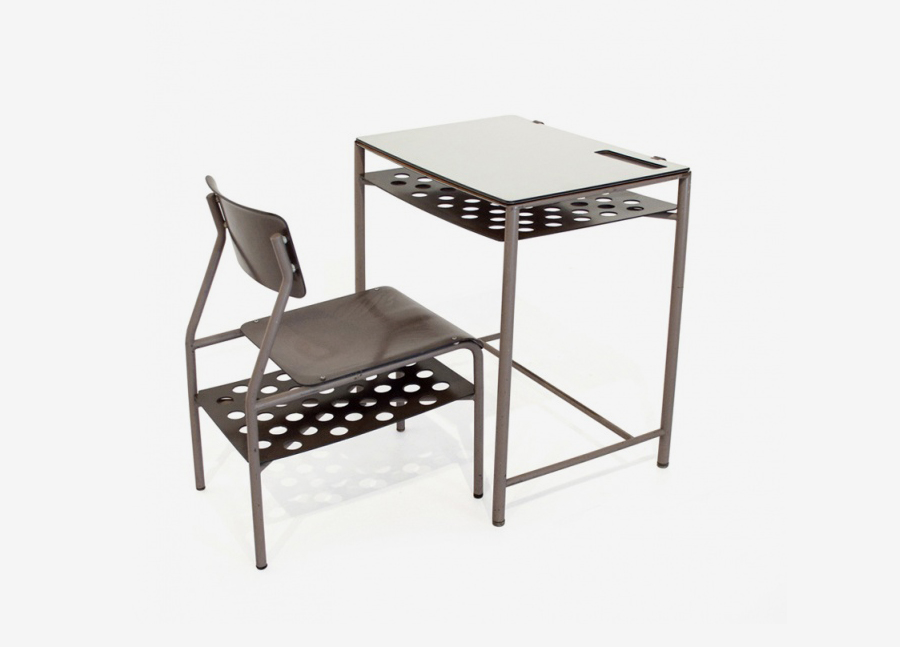 School Desk
School desk and chair
1966
Winning entry in a contest organized by the MIA – Mostra Internazionale Arredo (International Furniture Show), Monza. The project was never produced. Designed with Aldo Jacober and Naomi Matsunaga.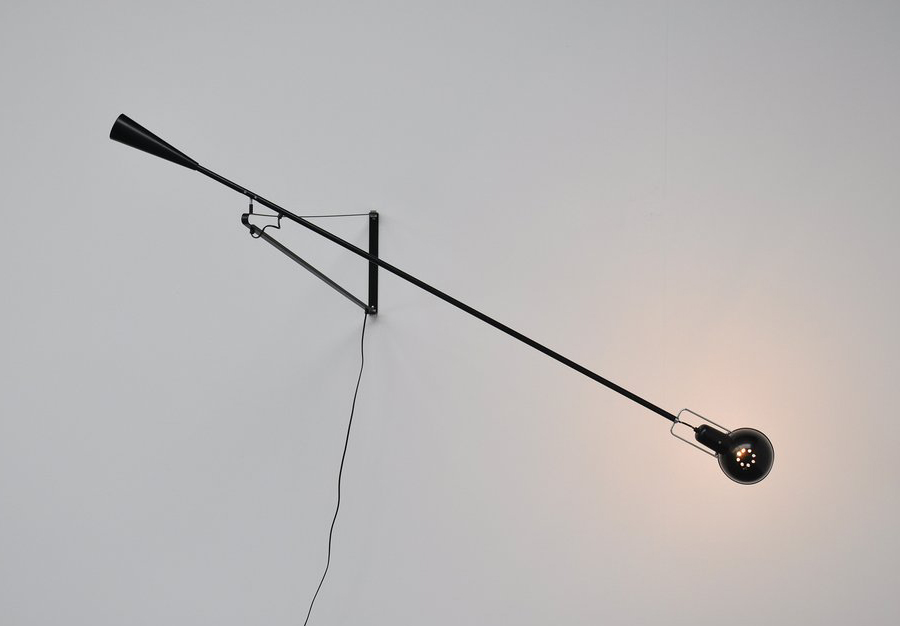 Mod. 265
Wall Lamp (Arteluce, Flos)
1973
A beautiful and extremely functional wall lamp thank thanks to a double arm can be easily positioned in any point of a room measuring 4×4×3h meters. One of the best wall lamp in the history of Italian design.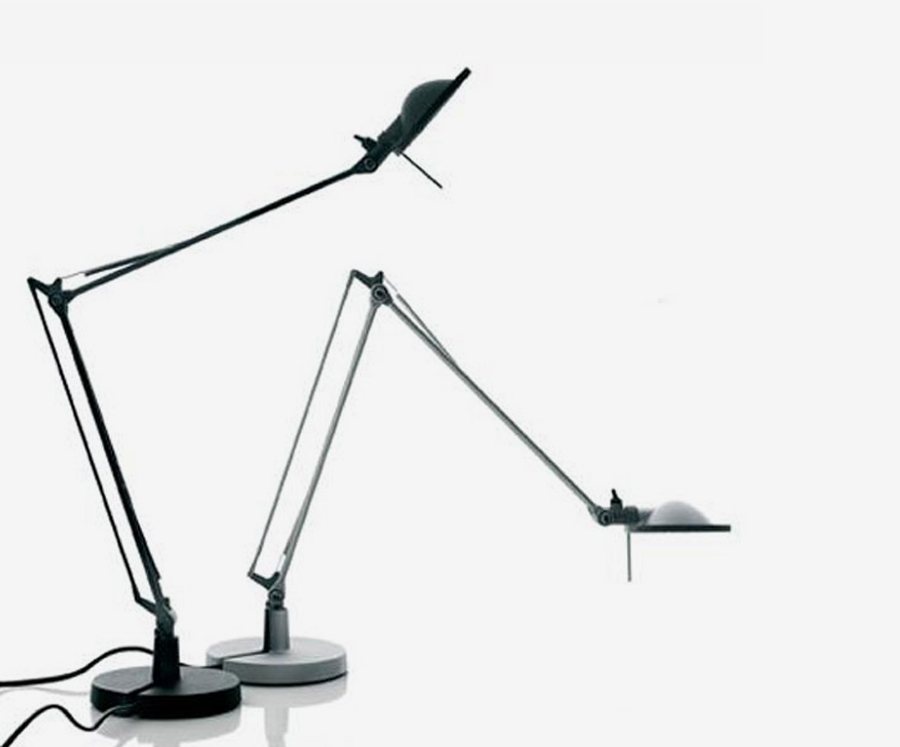 Berenice
Table Lamp (Luceplan)
1985
A new type of spring lamp with miniaturized dimensions, manufactured in table, floor, and wall version. Designed with Alberto Meda.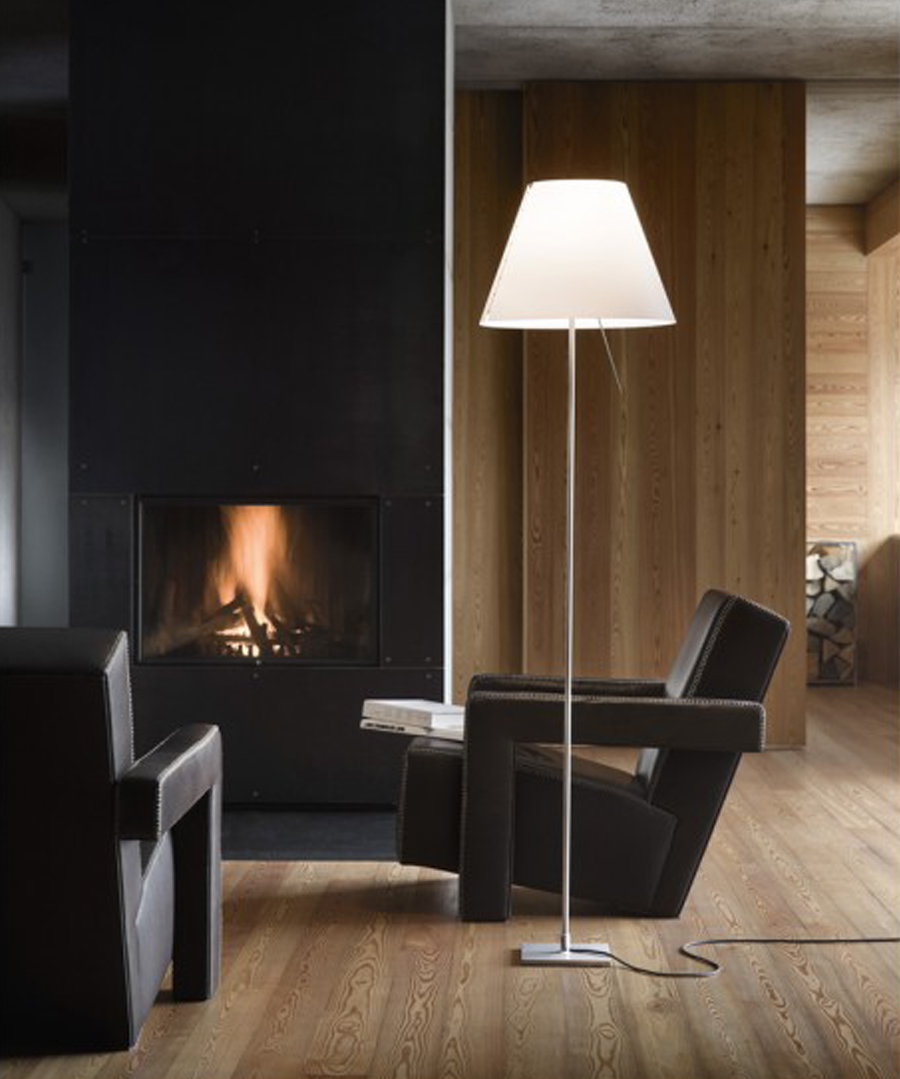 Costanza
Floor Lamp (Luceplan)
1986
An icon of Italian design. It proposes the most traditional and archetypical typology of the lamp: a truncated cone-shaped polycarbonate shade with its beautiful warm light. The telescopic aluminium stands is equipped with an electronic sensorial switch for four lighting levels, that can be easily operated with a gentle touch of the fingers.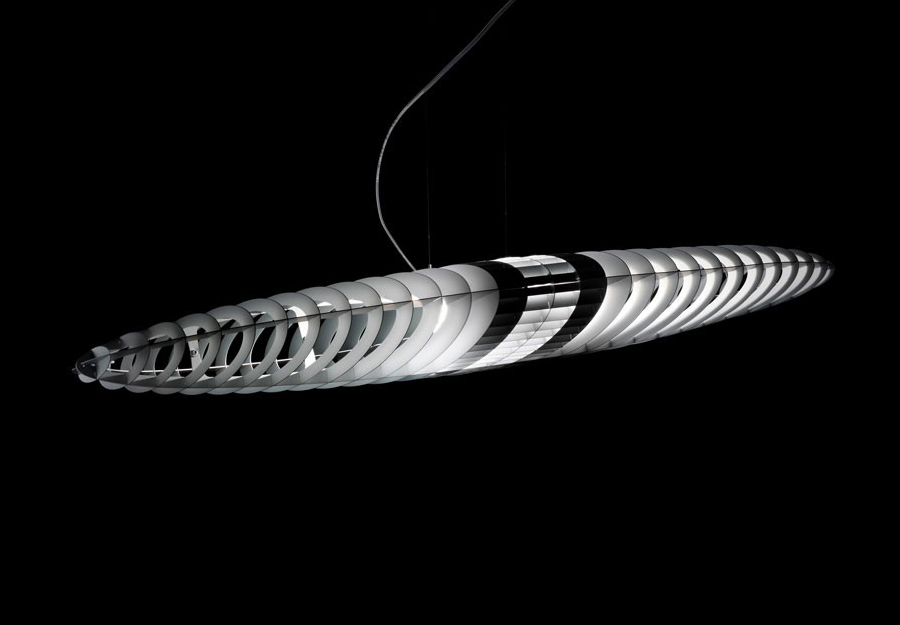 Titania
Suspended Lamp (Luceplan)
1989
Titania features a computer-designed aluminium rib structure that appears now as a solid now as a transparent object. Designed with Alberto Meda.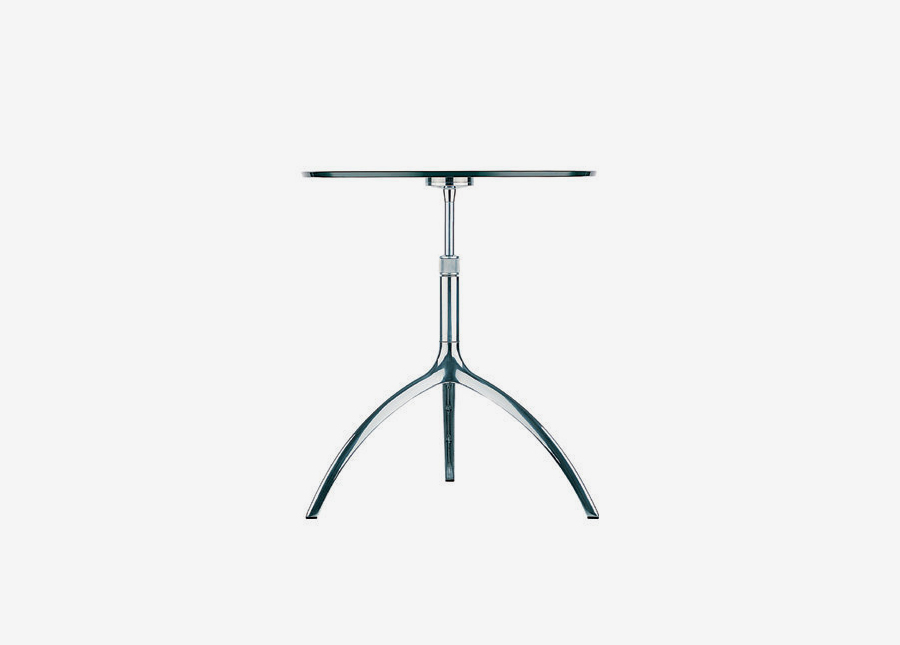 Tree
Small Table (Alias)
1991
A small table composed by a rotary height-adjustable tripod in aluminium die-casting and round or curved tops made of slate, glass, or beechwood.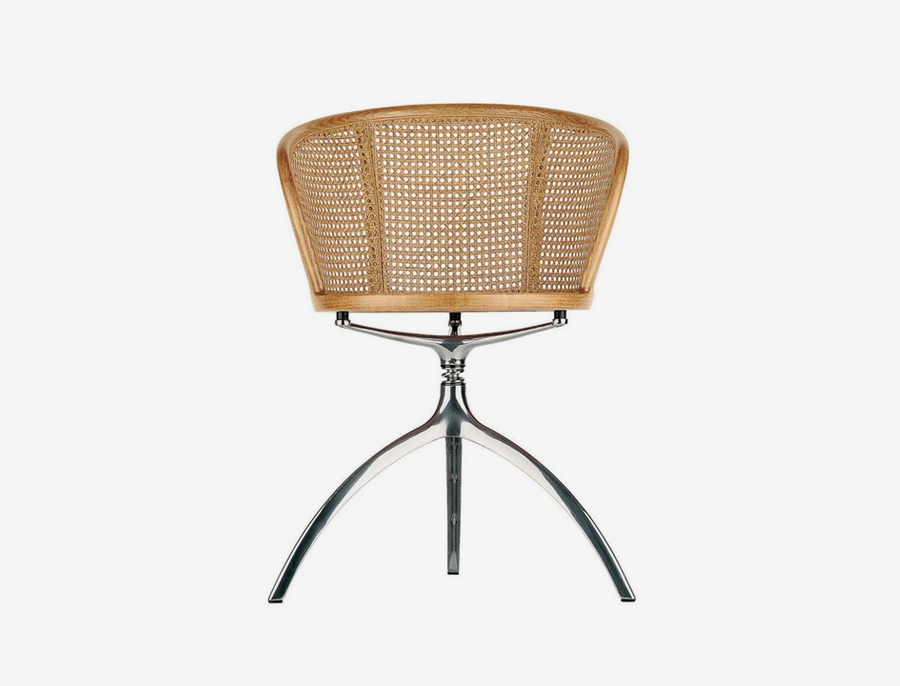 Young Lady
Chair (Alias)
1991
Chair and armchair using the same tripod base of Tree tables, equipped with a shock-absorber mechanism, and a straw Vienna body, stretched over a frame hot bent, solid beech.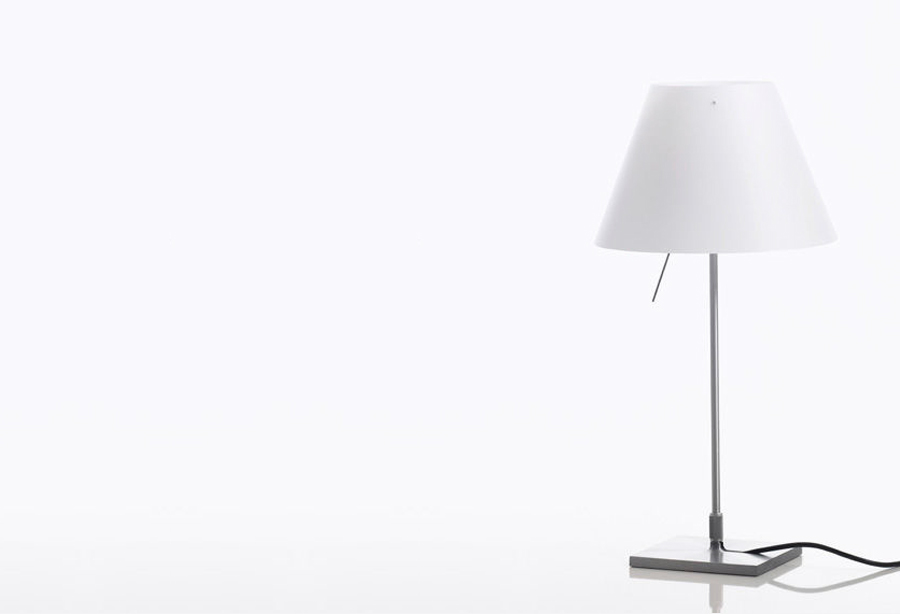 Costanzina
Table Lamp
1992
Table version of Costanza in a smaller size.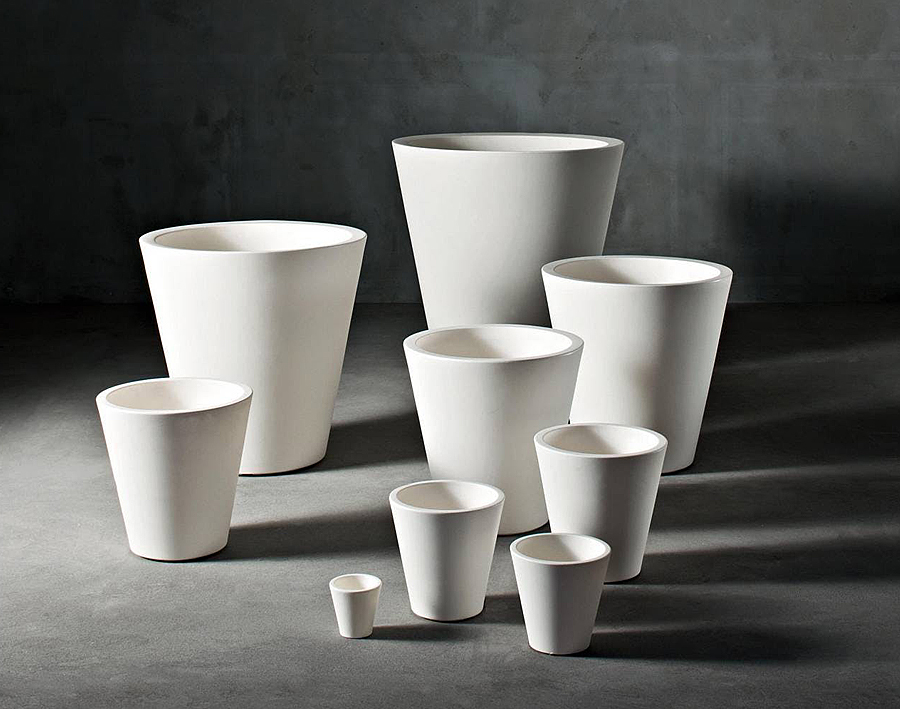 New Pot
Pot Series (Serralunga)
2001
Series of archetypical vases with a truncated cone shape made of roto-moulded plastic.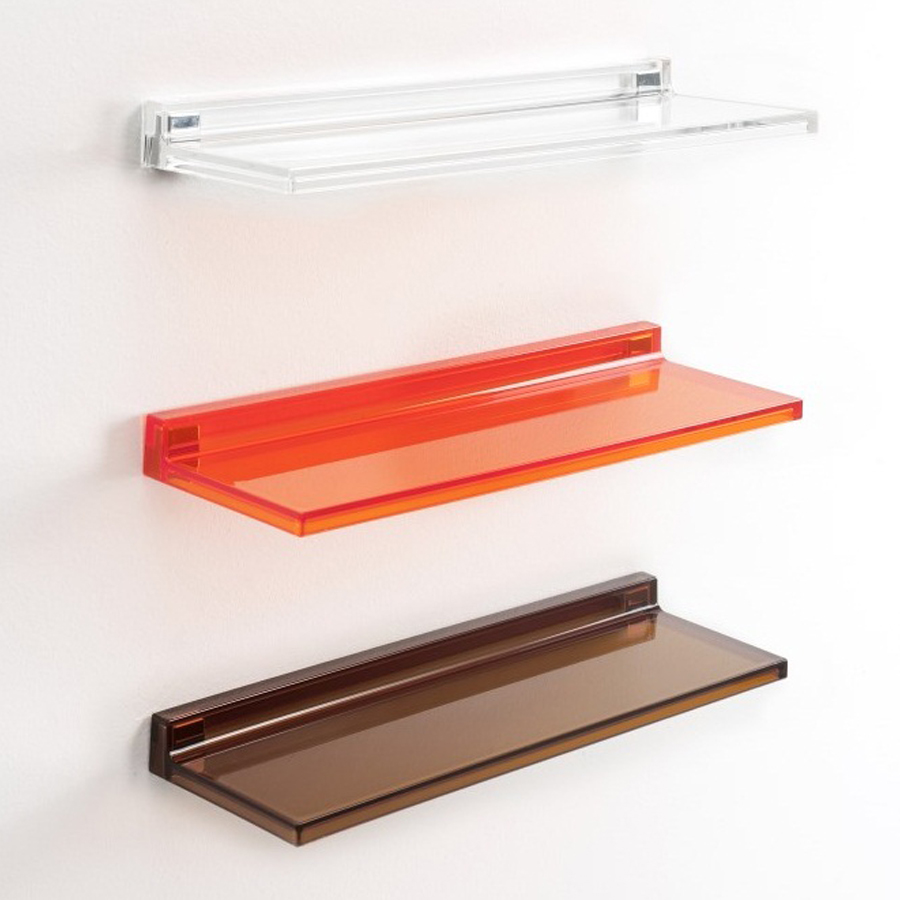 Shelves
Shelves (Danese)
2001
Series of modular shelves made of semi-transparent plastic in a number of colours. The hook-up system allows for positioning both with the plain surface facing upwards and reverse.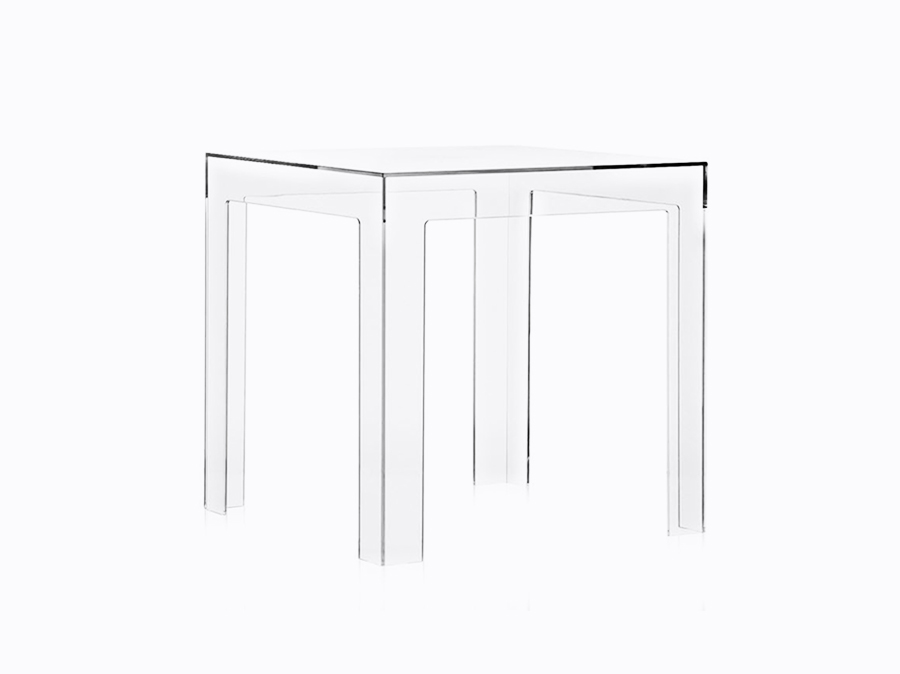 Jolly
Small Table (Kartell)
2003
Small, cubical table (40×40×40 cm) made of transparent or mass-tinted plexiglas, shock resistant and weatherproof.
ABChair
Chair (Danese)
2007
A stackable, functional, and fully recyclable chair made of a single, laser cut aluminium sheet, 3mm thick.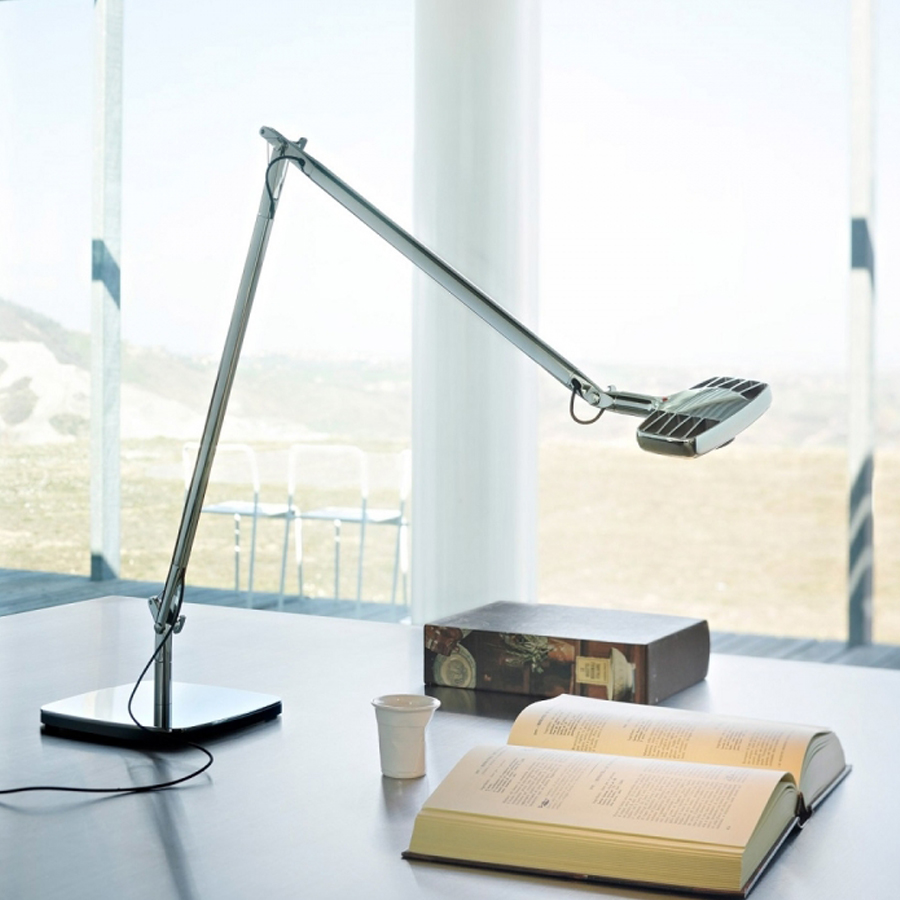 Otto Watt
Table Lamp (Luceplan)
2011
Desktop lamp designed in order to reduce material, dimension, formal complexity, and visual impact. The lamp head is perforated in order to dissipate heat, and to be handled without burning one's hand. Designed with Alberto Meda.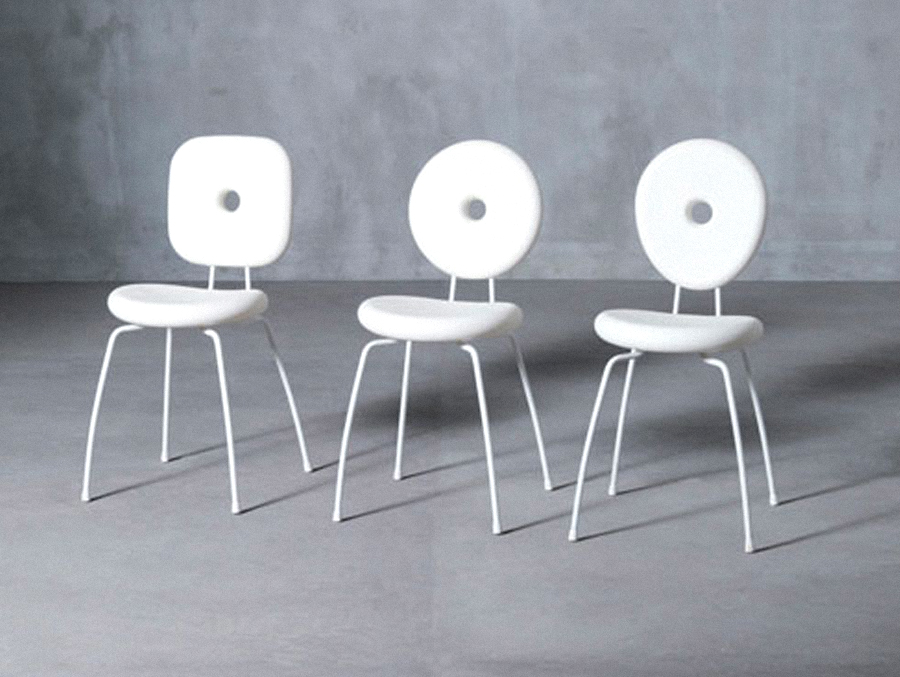 Ping Pong Pang
Chair Series (Serralunga)
2012
Series of three chairs featuring interchangeable cushions moulded in rotational presswork in many colours, snap mount on a metal structure.
Links & Docs
Profiles
Paolo Rizzatto
Studio Website
People of Expo
Paolo Rizzatto
Projects
Luceplan
Company Website
MoMA
Collection
Videos
ArchiProducts
Artemisia
Danese
Paolo Rizzatto
Domus
Salone 2014
IdeaLuce
Costanza
Interni Magazine
Talk by Paolo Rizzatto
Luceplan
Costanzina
Luceplan
Hope
Luceplan
Luceplan Story
Luceplan
Otto Watt
Salone del Mobile
Interview
Veneta Cucine
Talk by Paolo Rizzatto
TO THE TOP ↑
Comments
If you wish to add a comment please feel free to write at
info@designculture.it
TO THE TOP ↑
Follow on Facebook
Partnerships

Archivio Grafica Italiana is the first digital resource to the Italian graphic design heritage. Founded by Nicola Munari in 2015.

Design consultancy based in Piacenza, Italy. Founded by Nicola Munari in 2015, it operates in the whole field of design.
TO THE TOP ↑
© 2013-17 Nicola-Matteo Munari. All rights reserved.