Giancarlo Iliprandi is a prominent Italian designer and illustration artist.
He started studying surgery in 1943 at the University of Milan. The year later he was drafted into the army of RSI (Italian Social Republic), that he quickly deserted to join the Resistance. After the war, he attended the Brera Academy graduating in painting in 1949 and scenography in 1953.
Self-taught in graphic design, in 1953 he opened his own studio focusing in exhibition and editorial design, often working in collaboration with
Achille
and
Pier Giacomo Castiglioni
, Bruno Munari, and Max Huber. Art director of numerous magazines during the 1960s, including Popular Photography Italiana.
In 1969 he entered the famous Nebiolo Research Group working for ten years with Aldo Novarese, Bruno Munari, Franco Grignani, Pino Tovaglia, Ilio Negri, and Til Neuburg. The group developed two typefaces released by Nebiolo, Forma and Modulo, winning a Compasso d'Oro award.
During his career he served major companies including Agip, Electa, Fiat, Olivetti, La Rinascente, RAI (Italian Radio Television), and Roche. In 1981 he designed the graphics of the 12th Compasso d'Oro exhibition in collaboration with Hans von Klier, and in 1998 he designed the graphics of the 13th Compasso d'Oro exhibition in collaboration with Franco Origoni and Anna Steiner. Recently, he was appointed by La Triennale to design the graphics for its 80 years (1933-2013) celebrative exhibition.
He taught at the Umanitaria School from 1961 to 1968. Co-founder of ISIA Urbino (High School for Industrial Arts), he acted as a board member from 1974 to 1984. He taught editorial design and social graphic design at IED (European Institute of Design) from 1984 to 1995. Director of the type design course at the School of Design of the Politecnico University since 2007.
Member of ADI (Industrial Design Association) since 1961. He was a board member in 1971-73, vice-president in 1985-87, and again in 1991-92, and finally became president in 1999-2001. President of ADC Milan (Art Directors Club) from 1967 to 1970. President of Icograda (International Council of Graphic Design Associations) in 1991-93. Honorary member of AIAP (Italian Association of Visual Communication Design) since 1991.
He received several recognitions including the 12th Triennale Grand Prix in 1964, four Compasso d'Oro awards (two in 1979, one in 2004, and the Compasso d'Oro Lifetime Achievement Award in 2011). He also received six Compasso d'Oro honorary mentions, and a honorary degree in industrial design from the Politecnico University in 2002.
His work has been exhibited in Italy, the United Kingdom, and the U.S.A.
A prolific author of articles, essays, and books including "Visual Design 1933-1983. 50 Years of Production in Italy" (Idea Libri, 1984). He recently published a monograph about his work titled "Note" (Hoepli, 2015).
Enjoy your reading,

TO THE TOP ↑
"Design is a planning system aimed to improve the quality of life," 1984.
"From a methodological point of view, there is no difference between visual communication and product design," 1984.
"Style, mannerism, method's inconsistentcy, originality for its own sake: these are the major risks in graphic design," 1962.
"The consistency of graphic design is not in the sign, but in the architectural composition of the sign," 1962.
"The graphic designer has to be consistent with its own cultural and technical commitment," 1962.
TO THE TOP ↑
What did you want to do when you were growing up?
I do not remember at all. Probably the soldier of fortune.
What was your educational path?
Scientific maturity. Three years at the Faculty of Medicine and Surgery. Eight years at the Brera Academy of Fine Arts studying painting and scenography. Then a scolarship to the HBK—Hochschule für Bildende Kunst (School of Applied Arts) in Berlin, and a Salzburg Seminar in American Studies.
What was your favorite subject at school?
Literature, chemistry, and natural science.
Did your parents do a creative job? Did they encouraged you to take up this profession?
My father was passionate about art and he dragged me to museums, but anyway my parents would rather have a son graduated in medicine.
When and how did your career start?
I started designing close to the 20, while I was housebound because I had joined the Resistance. I opened my first professional office in 1953, when I finished my studies at the Brera Academy.
How has your design evolved since that time?
Being an autodidact my design has evolved in relation to individual insights, relations, and experiences.
Is there a book that was particularly important to you as a designer?
Probably all those related to the history of the Bauhaus.
What kind of projects do you prefer to dedicate yourself and why?
I prefer to work on projects of social communication, because I consider the individual commitment to be important.
A project you would like to realize.
An historical-touristic sign system for Milan, that would finally make the city "legible" for both foreign visitors and—specially—its citizens.
A designer whose work you admire.
The architect Renzo Piano.
A piece of architecture.
The Jin Mao Tower in Shanghai by SOM (Skidmore, Owings and Merrill).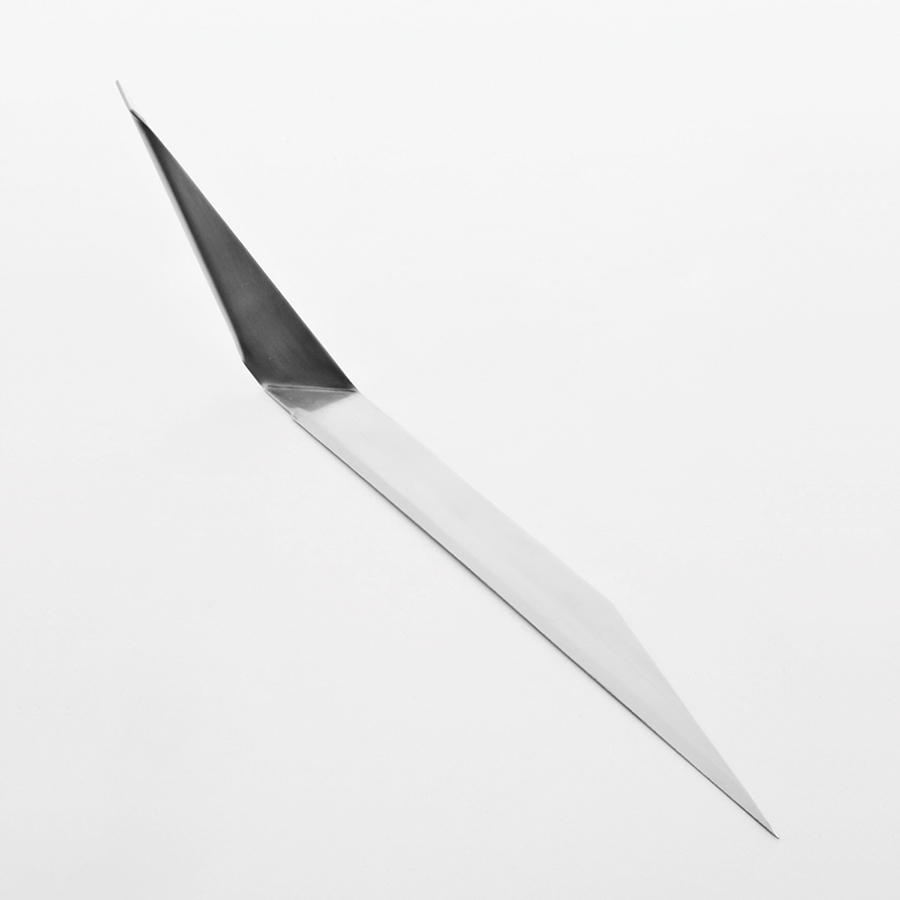 Enzo Mari, Benbecula, 1961, paper knife by Danese.
A piece of design.
One of the paper knife designed by Enzo Mari.
A typeface.
Bodoni roman in display sizes.
In which way do you approach a new project?
Following a methodology, as usual.
Without considering technology, what do you think are the main differences between the design from the past and the current one?
Time is limited, and haste makes waste. The general tendency is to stop at the surface of things.
Has the way people perceive the design changed?
People perceive design in the same superficial way by which design is usually realized.
What would you recommend to a young designer?
To devote himself primarly to research and experimentation.
What job would you have done if you had not became a graphic designer?
I probably would have attended certain courses at the Centro Sperimentale di Cinematografia (Cinematography Experimental Center)
[Note: It is the oldest film school in Western Europe, founded in Rome in 1935.]
Which was your favorite game when you were a child?
Imagine me fighting endless battles and inventing pseudo-comics. I was protected by a cardboard armor that I built myself, with a wooden sword, and other objects forming the wardrobe of my paper heroes, with a particular reference to the Nibelung saga or King Arthur's epics.
© 2013-16 Giancarlo Iliprandi, Nicola-Matteo Munari. All rights reserved.
TO THE TOP ↑

Archivio Grafica Italiana is the first digital resource to the Italian graphic design heritage. Founded by Nicola Munari in 2015.

Design consultancy based in Piacenza, Italy. Founded by Nicola Munari in 2015, it operates in the whole field of design.
TO THE TOP ↑